Japan-Insights
Deepen your understanding of Japan's people, places, and culture.
Essays
Cipangu, Land of Gold and Silver
- Iwami and Sado: Two sites of mining heritage
Regine Mathias, France
Travel, Landscape
Life, Food, Technology
History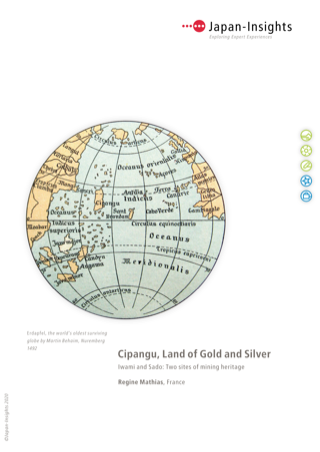 Today Japan is generally regarded as a country without its own mineral resources. However, in the late 13th century, Marco Polo, the famous merchant from Venice, portrayed Japan as Cipangu, a country rich in gold. Later, between 1540 and 1640, Japan was a major player in the world silver flows, and the country exported large quantities of copper in trade with China and the Netherlands.
With the designation of the Iwami Silver Mine as a UNESCO World Heritage Site in 2007, mining has become a more visible part of the Japanese cultural heritage. Today, several former mining sites preserve memories of the past and make them accessible to the public.
The author tells the story of two important sites: the Iwami silver mine and the gold and silver mines of Sado island. Visitors to these sites can experience deep underground how the miners extracted ore under the most difficult conditions, while well-preserved traditional townscapes invite to take a trip back in time to Japan's past.