Japan-Insights
Deepen your understanding of Japan's people, places, and culture.
Stories
An Interview with Dr. Le Thi Thu Giang
Dean of the Faculty of Oriental Studies, Vietnam National University (Hanoi)
Vietnam National University Ushers in a New Chapter in Japanese Studies with a Global Focus
2023 marks 50 years of diplomatic relations between Japan and Vietnam, and the Department of Japanese Studies at Vietnam National University (VNU) in Hanoi has much to celebrate during this auspicious year. With ongoing support from TIFO, the department—part of the Faculty of Oriental Studies at VNU—has just launched Vietnam's inaugural graduate programs in Japanese Studies, while also making significant progress in building an integrated international network with other academic institutions. Dr. Le Thi Thu Giang, Dean of the Faculty of Oriental Studies, spoke with Japan Insights about what these developments mean for Japanese Studies in Vietnam, as well for the Japan-Vietnam relationship.
Interview by Louise George Kittaka
Writer's Profile
Louise George Kittaka
Louise is a Tokyo-based bilingual writer from New Zealand who contributes to a wide range of domestic and international media platforms. Her areas of interest include travel, popular culture, education, business, and issues pertaining to Japan's international community. She conducts cross-cultural training programs for families leaving or arriving in Japan on corporate assignments and lectures in the comparative studies department at Shirayuri Women's University. Louise is a graduate of Waikato University (New Zealand) and the State University of New York at Buffalo (USA).
Fruitful Relationships; Bright Futures
"TIFO has been our trusted partner for nearly 25 years, supporting us in our goals of providing educational opportunities and disseminating information about Japan in Vietnam, along with deepening bonds between our two countries. Thanks to this invaluable assistance, we have made steady progress over the years," Giang notes.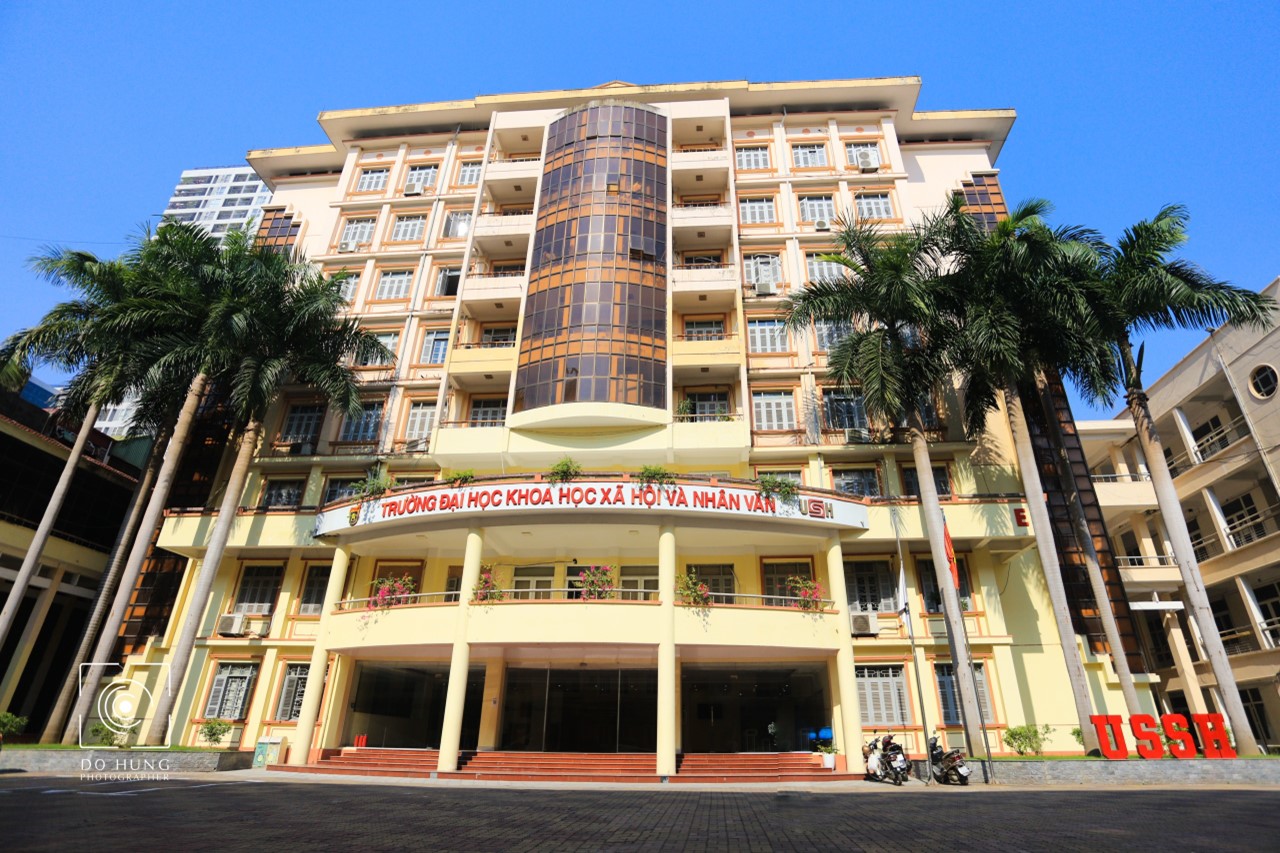 Since 1995 the Department of Japanese Studies at VNU has been facilitating courses as part of the Oriental Studies program. It subsequently started offering its B.A in Japanese Studies in 2019, with the first class graduating from the program this past June. Building upon this strong foundation, MA and PhD program in Japanese Studies began in September 2023, with a combined total of around 10 students initially. These students with a specialized interest in Japanese Studies will now benefit from the opportunity to concentrate on their chosen field.
"The fruitful relationship with TIFO has also led to opportunities for conferences and academic exchanges for our students and faculty, and we are very proud of this progress. The addition of our MA and PhD programs—the first of the kind in Vietnam—will allow us to better meet the needs of students, and offers even greater potential for attracting talented candidates in the field," says Giang.
Every year around 15 of the Department's students have the opportunity to go abroad to study in Japan on short and long-term programs. Vietnam and Japan are both steeped in history, and a group of VNU's students participated in a tour of some of Japan's World Heritage Sites during the summer, guided by experts in the field.
Giang says that Japanese culture has a major influence in Vietnam, particularly among young people. "Vietnamese youth are, for example, greatly interested in Japanese music and pop culture, and can build on this foundation through our programs," she points out. "Another reason for the growing number of students in Japanese Studies is the potential job opportunities after graduation. Most of our graduates go on to secure job related to Japan, in respected and highly-sought after roles."
Expanding VNU's Global Footprint
The initial foundation for Japanese Studies in Vietnam was a bilateral relationship between Japan and Vietnam. In the past few years, however, VNU has expanded to a multilateral focus, seeking collaboration with academic institutions which excel in Japanese Studies; first in other ASEAN countries, and more recently in North America and Europe. The resulting insights and knowledge are allowing VNU to enhance its programs, expanding horizons for students and contributing to the professional development of faculty.
The first phase of VNU's international expansion was to form relationships with universities in Japan and ASEAN, becoming a member of the Japanese Studies Association in South East Asia (JSA-ASEAN) Steering Committee in 2016. VNU subsequently began laying the groundwork to further expand its international network, launching the "Internationalization Project" in 2017 with a focus on Europe and North America.
The seeds for the Internationalization Project were sewn in Lisbon, Portugal at the 15th International Conference of EAJS (European Association for Japanese Studies) in 2017. With the encouragement of TIFO, a delegation of three members from VNU attended the conference, where they introduced their department and the existing cooperative network with universities in Japan and ASEAN. Encouraged by the positive feedback on their proposal to initiate academic exchange with universities in Europe and North America, the members of VNU's Department of Japanese Studies knew they were on the right track.
The following year VNU delegations traveled to Europe and North America to visit well-established Japan Studies programs in multiple countries. These included the United Kingdom (Cambridge University), Germany (Heidelberg University), France (Aix Marseille University; Paris Diderot University), the United States (University of California, Los Angeles; University of California, Berkeley; Columbia University; University of Pennsylvania; Princeton University) and Canada (University of British Columbia).
Past and Present Perspectives
Dr. Phan Hai Linh, associate professor and former head of VNU's Department of Japanese Studies, has been involved in the Internationalization Project from the outset. "These overseas visits confirmed the viability of the project, and so we decided to kickstart our activities in 2021. We proposed that TIFO would sponsor annual visits from three invited scholars from European and North American universities, in order for them to teach our students and engage in academic exchange with our lecturers. By the end of this financial year (2023), we will have invited a total of nine scholars from the West to work at VNU," says Linh.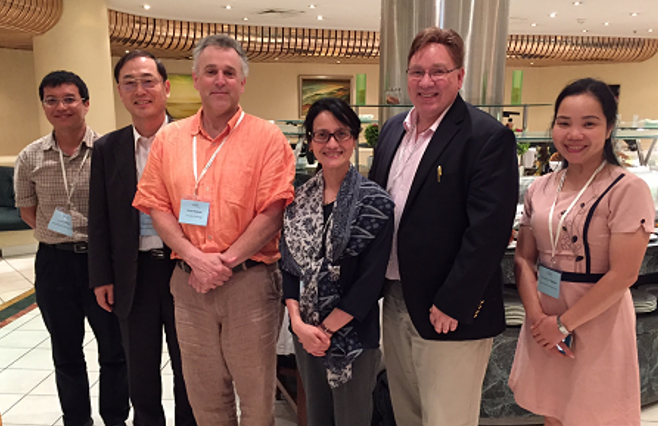 Japanese Studies has a relatively short history as an academic discipline in Vietnam, having started in the 1990s. However, it is thought that Japanese–Vietnamese relations began more than 1000 years ago, and the start of trade between the two nations can be traced back several hundred years. One interesting example is the city of Hoi An on Vietnam's central coast, where Japanese merchants established their own enclave in the sixteenth century. A well-preserved bridge and temple built by these merchants serve as proof of Japan's influence from that time.
Honoring both the historical and contemporary aspects of this relationship, VNU's scholars seek insight into issues related to present-day Japan while drawing on the knowledge of the past. "The Western approach to Japanese Studies often tends to generalize; it doesn't include the context of Japan's unique position in its relationships within Asia," Linh explains. "On the other hand, Vietnam's Japan Studies approach Japan from internal Asian perspectives and the historical relationship with Vietnam."
Mutually Rewarding Experiences
Under the auspices of the 2022 grant project facilitated by TIFO, three international specialists in Japan Studies spent time at VNU as part of the ongoing Internationalization Project. The guest scholars taught classes at all levels, from undergraduates to graduate students and researchers, garnering highly favorable feedback from students at VNU.
"Our students benefited in multiple ways from the deep knowledge of each scholar in their respective areas, and the new perspectives that were offered," says Giang. "The scholars also introduced our students to challenging yet fascinating aspects of Japanese religion and history with their materials and presentations, inspiring our students with ideas for thesis and dissertations. Finally, our teaching assistants gained valuable experience through working alongside the guest scholars."
One of VNU's invited scholars for 2022 was Dr. Christina Laffin from the Department of Asian Studies at Canada's University of British Columbia, who delivered lectures on nature and premodern Japanese literature. Laffin appreciated the opportunity to collaborate with colleagues at VNU, witnessing how various fields within Japanese Studies have developed over time and exploring possible future directions within and beyond Vietnam.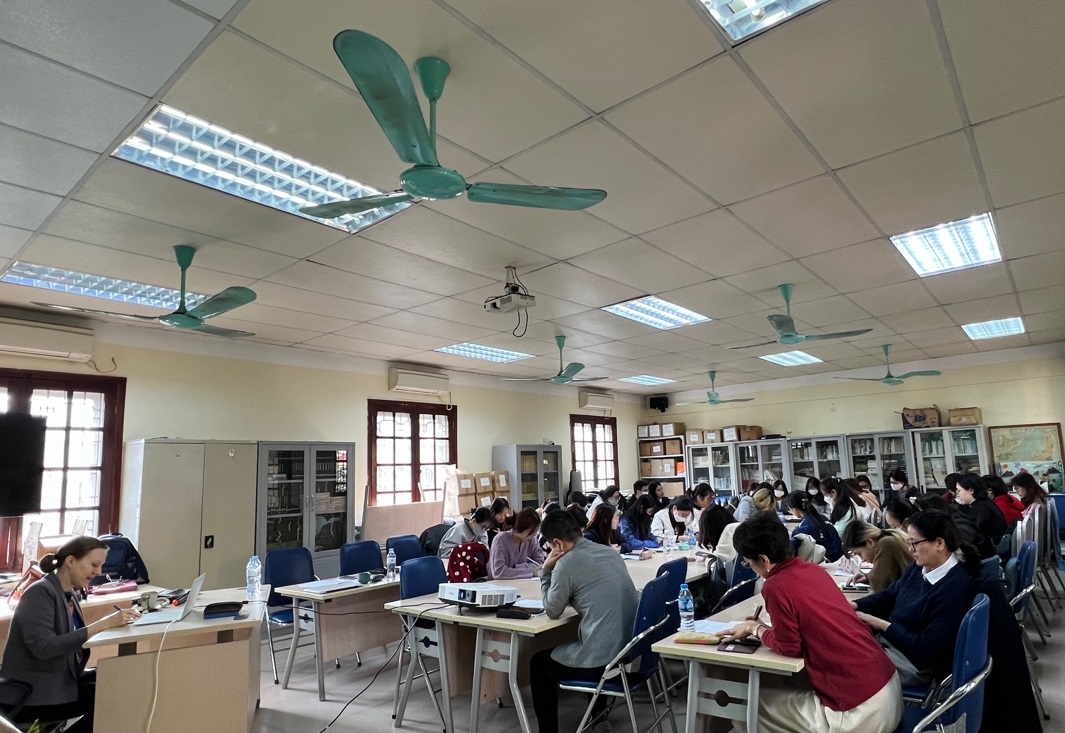 "The chance to teach and learn with students VNU left me impressed with their language capabilities and passion for learning Japanese literature, history and culture," Laffin explains. "From a personal research perspective, I was particularly excited to share knowledge about current ecocritical approaches to literature before the nineteenth century and to learn more about possible cross-cultural and theoretical vantages, such as notions of seasonality and constructions of nature."
Joining Laffin as a guest lecturer for 2022 was Dr. Arnaud Brotons from the Department of Asian Studies at Aix-Marseille University (AMU-France). Pointing out that researchers are "not simply libraries of knowledge", Brotons sees great value in the exchange of ideas and knowledge from different cultural backgrounds. "The internationalization of Japanese Studies makes it possible to broaden and diversify perspectives on a research subject," Brotons says. "VNU will undoubtedly play an important role in leading international networks in Japanese Studies."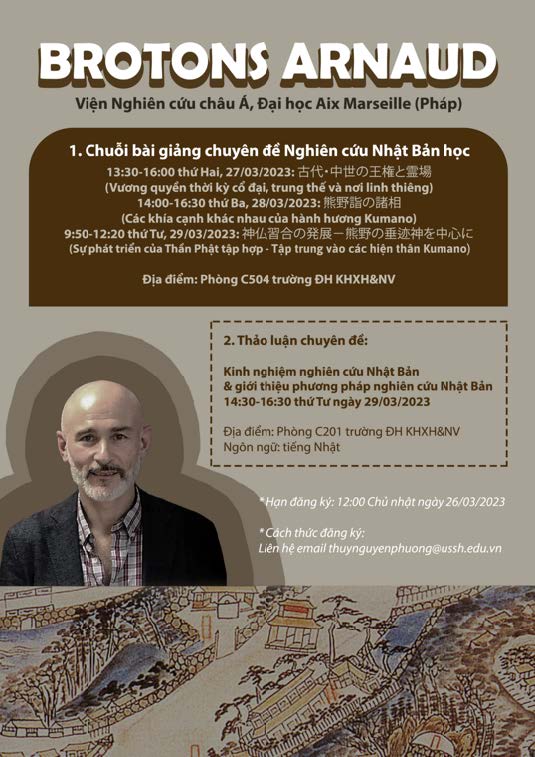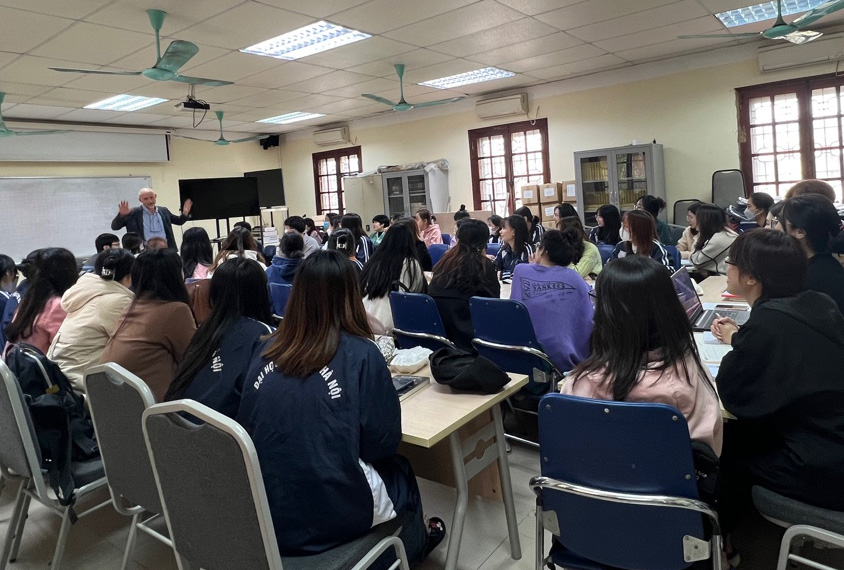 Keeping Pace with the Future
Giang is looking forward to continued exchange of ideas and talent through training programs, workshops, research and scholarships, as three more invited scholars will be sharing their experiences and knowledge as guest lecturers for the 2023 academic year.
Building on this momentum, VNU is now planning to integrate its Eastern network (Japan and ASEAN) and Western network (Europe and North America), enhancing VNU's international reputation and fostering the next generation of Japanese Studies researchers in Vietnam. Discussions on cooperation in graduate training, including double degree programs, are now underway with several international universities.
Meanwhile, the Vietnam-Japan relationship continues to flourish and evolve. Ahead of this year's 50th anniversary of diplomatic relations, in November 2021 the leaders of the two countries pledged to work closely together to elevate the partnership in all areas. In line with this, Giang points out that Vietnam has an ever-increasing need for talented individuals with an in-depth knowledge of Japan across a wide range of sectors, ranging from commerce and industry to agriculture and sustainable development.
In turn, VNU's Japanese Studies program must expand to keep pace, going beyond the initial goal of raising awareness about Japan and maturing into an interdisciplinary, application-oriented field. "The task of the Japanese Studies discipline is to evaluate Japan's resources, developing potential and opportunities; advise on Vietnam's policies in relation to Japan; and finally, contribute to Vietnam's sustainable development strategy while promoting Vietnam-Japan relations," notes Giang.
While specialization in Japanese Studies undoubtedly brings opportunities for a richer exploration of Japanese culture, Giang also welcomes the current trends towards interdisciplinary collaboration, as well as an increasing number of studies about countries. Japan Studies, for example, is being repositioned in the wider context of East Asian Studies.
"In terms of connections, I think no country can solve issues unilaterally, so I do feel the value of an integrated approach. Examining Japan from multiple perspectives to gain a deeper understanding—in terms of both East Asian Studies and the wider world—is the way forward," she says.
"As our new programs come to fruition, we look forward to the continued support and cooperation from TIFO. I would like to take this opportunity to express our gratitude and our commitment to this ongoing relationship," Giang says.