Japan-Insights
Deepen your understanding of Japan's people, places, and culture.
Stories
An Interview with Dr. Tara McGowan
Executive Director, North American Coordinating Council on Japanese Library Resources (NCC)
Behind the Scenes, Abroad: Resource Sharing for Japan Studies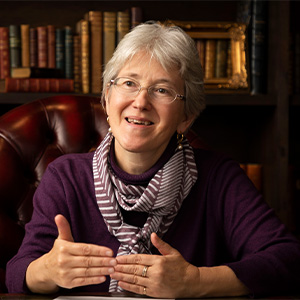 Tara McGowan, a Princeton, New Jersey-based Japan scholar and executive director of the North American Coordinating Council on Japanese Library Resources (NCC), met with Japan-Insights to talk about the council's recent work, including livestreamed events and new website features supported by a TIFO grant that have helped to boost awareness of NCC's many information services for the Japan Studies community.
Interview by Susan Rogers Chikuba
Writer's Profile
Susan Rogers Chikuba
Susan has been following popular culture, architecture and design in Japan for three decades. As a Tokyo-based writer, translator and editor she covers the country's art, design, literary and culinary scenes for domestic and international publications. She is a graduate of Cornell University.
Imagine if there were one Information Central where any student or educator could go to get a whole picture of the Japan Studies materials now available to them online. Figuring out how to curate that in ways that bring these diverse resources together meaningfully, and how to make sure people find it—now that would be something really valuable.
Since its inception in the early 1990s, the North American Coordinating Council on Japanese Library Resources (NCC) has been facilitating the work of Japan Studies scholars, researchers, faculty and, importantly, the librarians on whom they all depend. The council's mission is to improve access to resources about Japan in North American library collections for all users, across as wide a range of fields as possible. As a non-profit, it relies on specialist volunteers across academia and the grant support of organizations like TIFO to coordinate and administer its many projects.
And what a host of projects there are! At the time of this writing the NCC website lists almost a dozen active committees and working groups, and the resources generated by them are all just a click away. A group dedicated to cooperative collection development, for example, coordinates locally and regionally to assist North American libraries in refining their collections and improving discoverability, and maintains the Notable Japanese Collections in North America browsing directory. Another frequently accessed resource is a guide to obtaining research access to major museums, libraries, and archives in Japan, North America, and Europe. A Spotlights feature, meanwhile, showcases lesser-known online collections, archives and exhibitions, offering recommendations for how they might be used in Japan Studies classrooms and research projects. (Were you in need of permissions-free illustrative prints from noh and kyogen theater? Seek no more.) Other recent Spotlights include the Eat Pray Anime YouTube channel exploring religion in Japanese popular media; the Japan on the Record podcast providing scholarly analyses of current events concerning Japanese society, politics, and popular culture; and the University of British Columbia's open-source website Behind the Camera, a teaching module-cum-database examining gender, power, and politics in the history of Japanese photography. Specialist Spotlights, meanwhile, facilitate professional networking with behind-the-scenes introductions to Japan Studies librarians and information specialists, revealing some of the fascinating things that are accomplished when personal passions find expression in one's career.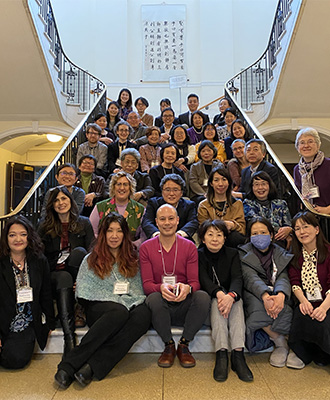 "Networking is a big part of what we do," says NCC executive director Tara McGowan. "All of the faculty and librarians who are involved in the council, other than my intern and webmaster and myself, are volunteer. So for me that means that whatever they contribute to our many different committees and working groups has to be, in the long run, something that will help all of our specialist volunteer force in their everyday jobs." For many individuals, work on behalf of the council is its own reward, not only because they're devoted to their field, but also because community service, such as chairing a conference or organizing a professional panel or workshop, is a requisite step toward university tenure. "Through collaboration, each of our working groups and committees brings in new people and tries to get them updated to the point where eventually they can become committee or working-group chairs," McGowan adds. In this way, project continuity is ensured, while teachers, scholars, and librarians from different institutions have a place to share projects and articulate their needs through what essentially serves as a community hub.
TIFO has just been wonderful about supporting librarian professional development.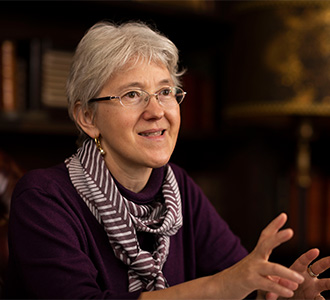 Preserving knowledge for future generations…. Upholding the public's right to know…. Interdisciplinary outreach, negotiating, persuading, raising funds…. When you think about it, librarians are as much social activists and project managers as they are information specialists. A universal challenge they face today is how multilayered and complicated their work has become with the move toward digitizing collections. "So much is possible with data now," McGowan says. "The field is constantly changing, and that's heightened by the push to scan, archive, and digitally share collections. Even before Covid, TIFO supported digital scholarship. Just as I was coming on board in 2017 we conducted Digital Humanities workshops for two or three years in a row. And TIFO has just been wonderful about supporting librarian professional development. In March 2023 at the Association of Asian Studies (AAS) annual conference, we could finally hold a next-generation librarian workshop that had been postponed because of Covid."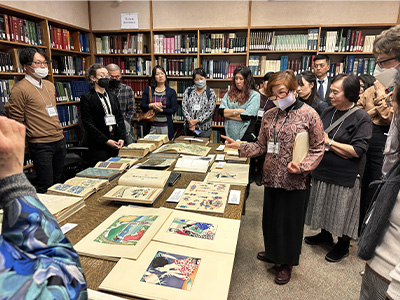 At the AAS conference in 2018, NCC hosted a panel discussion examining the future of digital Japan Studies and NCC's evolving role as a catalyst for collaborative research. Digitization has in many ways heightened the disparities between institutions that are well-funded and those that are not, making the need for equitable resource-sharing even more pressing. Another issue is that it's not enough to simply digitize—the content also needs to be made discoverable. To address these concerns NCC formed the Comprehensive Digitization and Discoverability Program (CDDP). Its task force has been looking at ways to support the digitization of hidden collections, to bring together collections that are complementary, and create an accessible international infrastructure for digitized Japanese materials. Importantly, training initiatives are being planned to ensure that Japan scholars and librarians have the technologies and skills they need to make their collections discoverable. Toward that end, TIFO has funded a resource library of presentations that introduce tools and projects in the Digital Humanities, as well as an awards program that encourages next-generation librarians and scholars to apply new digital technologies to their collection development and research. "What's exciting about CDDP," McGowan says, "is that we're realizing that digitization is not about just throwing a lot of money at something—it really is about developing networks, and building collaborative relationships for better allocation of resources that already exist." A pilot project debuting in 2023 aims to use digital tools like the International Image Interoperability Framework (IIIF) to curate postcards, images, diaries and other materials from disparate, little-known collections, bringing them together to mark the centennial of the Great Kanto Earthquake.
NCC was founded to break down barriers between researchers and librarians in Japan Studies, and in the ways information is accessed.
Ephemera, cartoons, anime—areas that would not have been considered for collections building and management even a short while ago, are all part of the changing landscape of librarianship. "There has been this idea that once we digitize, then we can just shift everything and it will all be simplified and streamlined, but of course that's just not true," McGowan offers. "Physical archives also must be maintained, so collections become hybrid, which only adds more angles to a librarian's work. Oftentimes digitization projects are begun with a short-term view and it's not really worked out how they are going to be maintained and kept accessible. How do you archive them? And how do you archive research that's been conducted on social media? These questions are really challenging."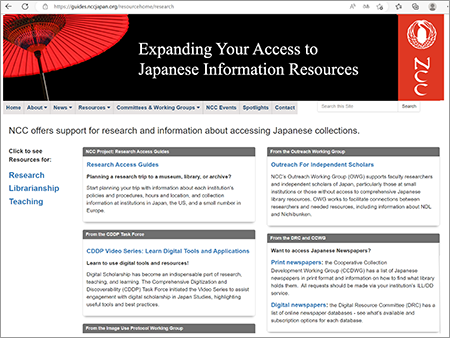 "I'm always amazed to go into archives and see books made so durably of washi paper," McGowan continues. "They're so beautiful after many hundreds of years. And then you get into the 1950s and the books printed on commercially made paper are crumbling. Now, with digitization, the period of use is shorter still. So the question becomes, how do you keep one of these projects going for even, say, fifty years. No one's even thinking in terms of two or three hundred years."
In late 2021, with the support of a TIFO grant, NCC hosted a series of livestreamed events where veteran and aspiring librarians, educators, and other Japan Studies specialists discussed challenges and opportunities that lie ahead in digitization, advocacy, and professional development. One speaker outlined a proposal for how trans-Pacific faculty, graduate students, and librarians might work together to catalogue bibliographic data and create the necessary metadata for large-scale projects. Another presenter addressed DEI (diversity, equity, inclusion) concerns in database development, including equitable access, fair-use rules, and support for under-served schools and under-represented scholars. As part of an ongoing participatory engagement series, an East Asian Studies graduate and aspiring librarian interviewed Tokiko Bazzell, a former NCC chair and the recently retired Japan Studies librarian at University of Hawai'i Mānoa, about her two-decade career. "All of these cross-generational conversations help build a vital Japan Studies community," McGowan says, "and the resources generated from them, which are all up on our website, will continue to benefit new members of the community."
To get more graduate students involved in these big-picture projects, where they're learning and also contributing to the base of knowledge for everybody, is definitely a direction we want to go in.
TIFO has also lent support to the Image Use Protocol (IUP) project, which assists US faculty and students in obtaining permission from Japan-based rights holders for the use of visual images in their teaching, research, and publications. The IUP task force provides bilingual templates of request letters and permissions applications, and offers basic guidance to both North American and Japanese publishers in seeking and granting permissions. It is a difficult area to navigate, as fair-use definitions and protocols for image rights vary significantly between the two countries.
McGowan works closely with librarians not only in her role as NCC's executive director, but in her day job as well. She is a researcher for the Rare Books collection of the Princeton University Library, specifically the Cotsen Children's Library, which represents 33 countries. "Their Japanese collection is really extraordinary," she says. "I've been hired as a metadata consultant for them for many years, so I've been working in libraries all along, without being a librarian." It's a role through which she gained an inside perspective on the needs of library users and administrators that serves her well at NCC.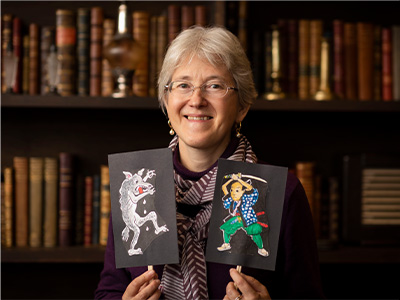 A significant part of the work being done in metadata is descriptive cataloging, often across languages. "Without descriptive cataloging, a lot of rare materials are effectively lost. No one can discover a material that's been catalogued erroneously—for example if it's been assigned to the wrong time period. It's fun for me because it's a constant process of discovery. And I think that's a lot of what drives people to archives in the first place—for the experience of uncovering things." In her private life, McGowan is a storyteller in the performing art of kamishibai, Japan's paper theater. Her own scholarly research in that area is directly impacted by the work she does facilitating NCC's many different initiatives, and her engagements as a storyteller, too, are all about communication and bringing people together. Clearly, it all circles back.
As NCC embarked on its fourth decade in 2021, individuals across its constituency, from a professor emerita to scholars and librarians recalling their undergrad days, sent in messages expressing what the organization has meant to them. A recurring theme of their testimonials is the spirit of collaboration the council has consistently fostered as it finds solutions to help grow the field of Japan Studies. Some accomplishments are not readily visible or even quantifiable, but their import is tremendous indeed.