Japan-Insights
Deepen your understanding of Japan's people, places, and culture.
Essays
Travels in Northern Japan
- In search of Miyazawa Kenji's unique modern vision
Nadine Willems, Belgium
Life, Food, Technology
Arts, Architecture, Design
Literature Philosophy
People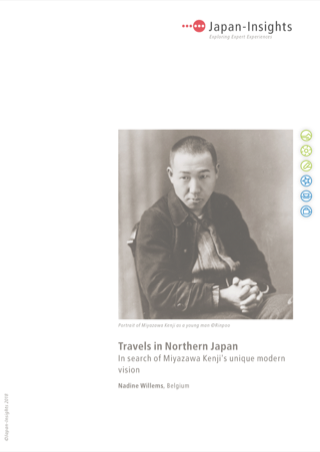 Miyazawa Kenji exemplifies the creativity of northern Japan. Almost unknown outside his native Iwate Prefecture in his lifetime, he is nowadays an iconic figure in the Japanese literary world. During his short life - he died of lung disease in 1933 at the age of 37 – he wrote some profound and challenging poetry and the most delightful and intriguing children's tales. But he is also remembered as a scientist, teacher, devout Buddhist, Esperantist, music lover and cultivator, an individual engaged in a wide variety of intellectual and practical pursuits, and dedicated to the wellbeing of his fellow humans.
Tracing Miyazawa's footsteps in northern Japan, Nadine Willems connects his work to the places he knew and documents the richness and singularity of the region's trajectory of modernization.