Japan-Insights
Deepen your understanding of Japan's people, places, and culture.
Essays
Portraits of Museums
- Exploring art museums in Shimane Prefecture
Sophie Richard, France / Great Britain
Arts, Architecture, Design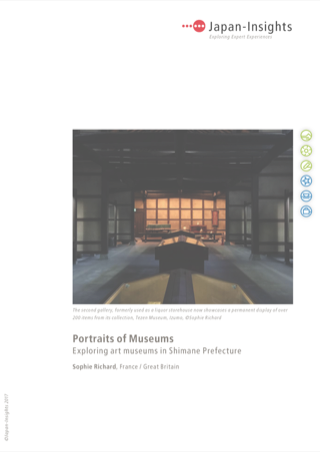 There is a remarkable number of museums in Japan. Disseminated all over the country, they are ideal venues to discover the culture, history, and dynamism of a specific region. Yet museums can be difficult to navigate: their sheer number can appear bewildering to visitors and the language barrier can be an issue. Therefore, an informed introduction to a selected number of venues will prove beneficial.
This research considers what Shimane Prefecture in Western Honshu offers in terms of museums, including their relevance and accessibility for international visitors. This was done by visiting a selection of public institutions as well as some smaller, private museums, meeting with curators in each venue for interviews.
Izumo Heritage Museums
A new web-site introduces in detail the unique network of museums for international visitors (✪)