Japan-Insights
Deepen your understanding of Japan's people, places, and culture.
Essays
Meeting Local Crafts in Yamaguchi
- Sustainable Traditions and Innovations in Textile and Clothing Culture
Marjatta Heikkilä-Rastas, Finland
Arts, Architecture, Design
People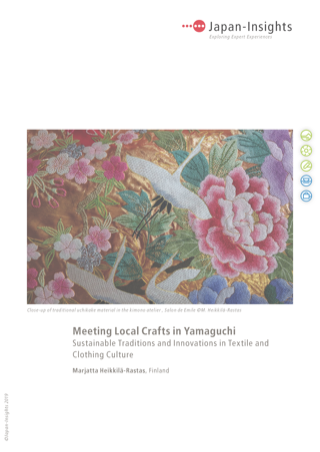 Finnish professor Marjatta Heikkilä-Rastas presents, from a designer's point of view, a compelling argument for the significance of traditional crafts in a sustainable kimono culture.
In this comprehensive article, the author details how numerous cooperative workshops where Japanese and Finnish students have designed, realized and presented collections using traditions and materials from both countries, interviews with local experts, and visits to unique places in Yamaguchi Prefecture where traditions of weaving, dyeing and paper-making have been continuing for centuries have made her understand that the kimono is not only about dressing up, but is the amalgamation of many cultural concepts that involve a whole cosmos of crafts and experiences.
Reviving Traditional Regional Crafts and Promoting Participation from Overseas
– The Example of Super Global Fashion Workshop 2019
Detailed report by Professor Yumiko Mizutani of Yamaguchi Prefectural University, who has been leading international workshops since 2009 together with Marjatta Heikkilä-Rastas, introducing the history and traditions of fashion and textile crafts and industry in Japan. (✪ [PDF/1,677 KB])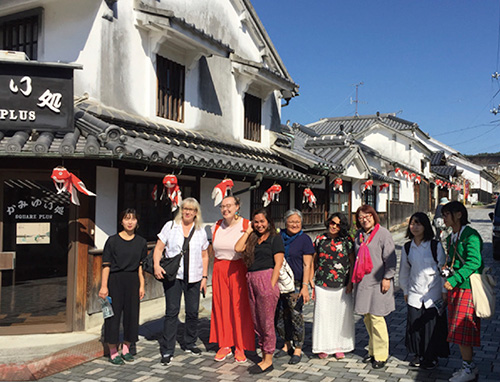 Kominka in Yamaguchi
The archaeologist Kitagawa Chiori details two typical examples [PDF/1,044 KB] of rustic houses and the values of Japanese aesthetics that they represent; the surrounding landscape with extensive rice fields makes one think about the early Yayoi Period (ca. 300CE-300BC), when rice was imported from the continent via the Sea of Japan to be cultivated as the basic food of the island. (✪ [PDF/1,044 KB])