Japan-Insights
Deepen your understanding of Japan's people, places, and culture.
Essays
Mt. Oyama Pilgrimage
- Experiencing Edo Culture Near Tokyo
Alice Gordenker, USA
Travel, Landscape
Life, Food, Technology
History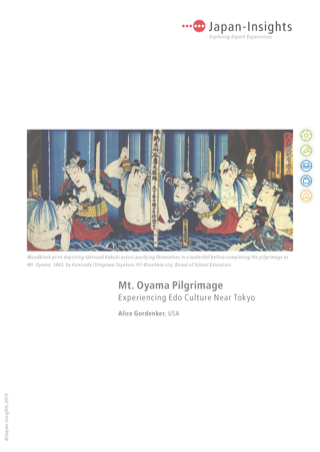 Located in Kanagawa Prefecture just a short train ride from Tokyo and Yokohama, Mt. Oyama is a popular destination for hikers and day-trippers, particularly in late autumn when the fall colors change.
Once one of Japan's most popular pilgrimage sites for the common people of Edo, today, most visitors – Japanese and international alike – come and go without discovering anything of the mountain's history.
The author details its importance in Edo period culture, including art, theater, and commerce while providing information for travelers visiting the mountain to learn more about its fascinating history, enjoying beautiful nature, local food, and spectacular views.